Culture & Campus
Culture
McAuliffe International School provides a rigorous, high-performing learning environment for all students.
Morning Meetings
One morning every two weeks, the principal holds a grade level meeting to go over the calendar for the week, review the goals, celebrate student achievement, address concerns and allow an opportunity for student voices to be heard.
Homeroom and Reading Zone
Every day (excluding Morning Meeting days) students attend a 20 minute homeroom where they have breakfast in the classroom and silently read their "choice novels".
Refocus
At MIS, "zeros" and missing assignments are not be permitted. The consequence for not doing your work is doing the work. In order to hold students accountable to this standard, MIS implements a Refocus Program. If a student does not do his or her work, the student will be required to stay after school to complete all missing assignments from 4:05 p.m. to 4:50 p.m.
Student Leadership
The students at McAuliffe International School play a central role in maintaining a culture of high expectations and excellence. Student leadership groups are counted on to serve as mentors to new or struggling students, act as mediators to help resolve minor conflicts and disputes within the student body and lead new student orientation and train incoming sixth graders on the "MIS Way".
Uniforms and Professional Dress
In order to prevent distractions and maintain a professional learning environment, appropriate attire and dress are required of all students and staff at MIS. The dress code for all staff is at a minimum business casual. Students wear school-issued shirts along with black, grey, or khaki pants, shorts, dresses or skirts.
Campus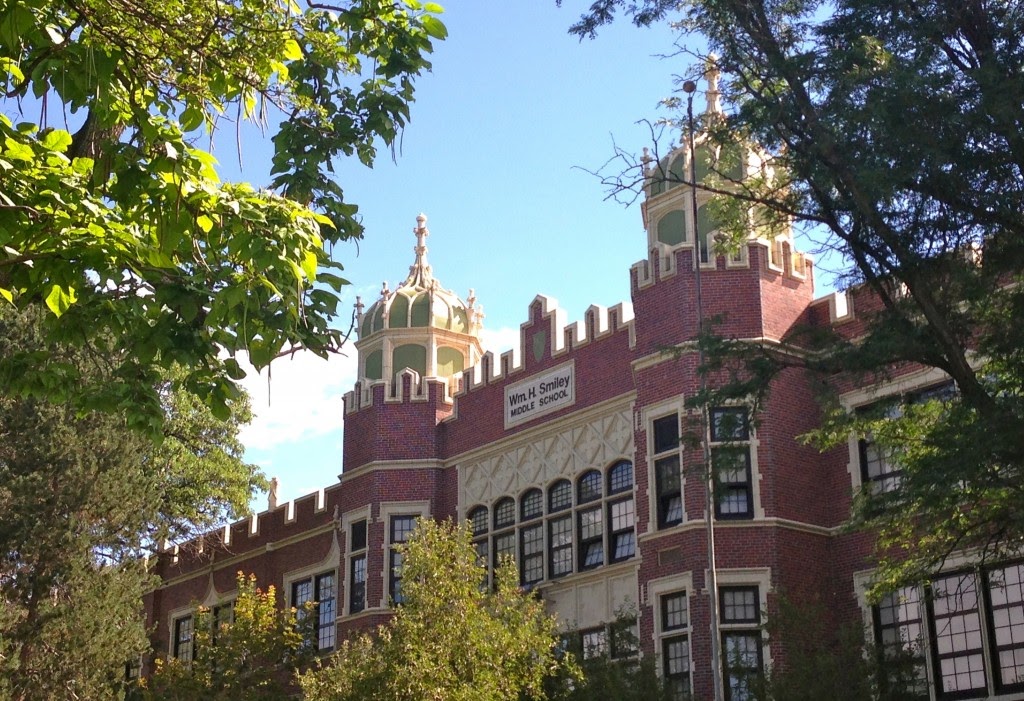 Location on the Smiley Campus
During our first two years of operation, McAuliffe International School shared a school building with Swigert Elementary in the Stapleton neighborhood. In 2014, we moved to the historic Smiley campus located in Park Hill at 2540 Holly St., Denver 80207.
Campus Features
The school building comprises three floors above ground plus a basement on a large campus with grass and lovely mature trees. The facility includes an auditorium, cafeteria, science and engineering labs, a band and orchestra room, two gyms, and spacious classrooms with large windows. The grounds feature a large athletic space for soccer, lacrosse, football and other sports, plus a baseball diamond, futsal court, tennis courts, basketball courts, and open play space.
Campus Updates
A tremendous amount of work was completed on the Smiley Campus during the summer of 2014. The 2012 Bond funded new plumbing throughout the building. Additionally, we have upgraded flooring in some classrooms, and all classrooms have received new whiteboards and interactive projectors. The music room has been completely overhauled with new sound paneling, paint, and carpet. Our engineering classrooms are up and running and have new lab furniture. The gym floor has been completely refinished and looks sparkling new, and new backboards were added to our basketball hoops. We were also fortunate enough to be able to procure slightly used tables and chairs for our classrooms from other schools within DPS.
The library has had a major facelift as well, with brand new carpet and all new furniture arriving in the next few weeks, thanks to the generosity of McAuliffe parents. The Stapleton Foundation made a generous contribution to help us purchase books for our library.
Through the generosity of our parent community as well as significant contributions from Mortenson Construction Co., Forest City, and the Stapleton Development Corporation, we built a courtyard on the south side of the building. This is a space for students to eat lunch outside, gather, and even perform on our new outdoor stage. The old storage shed has been relocated from this area, with new bench seating and trees added.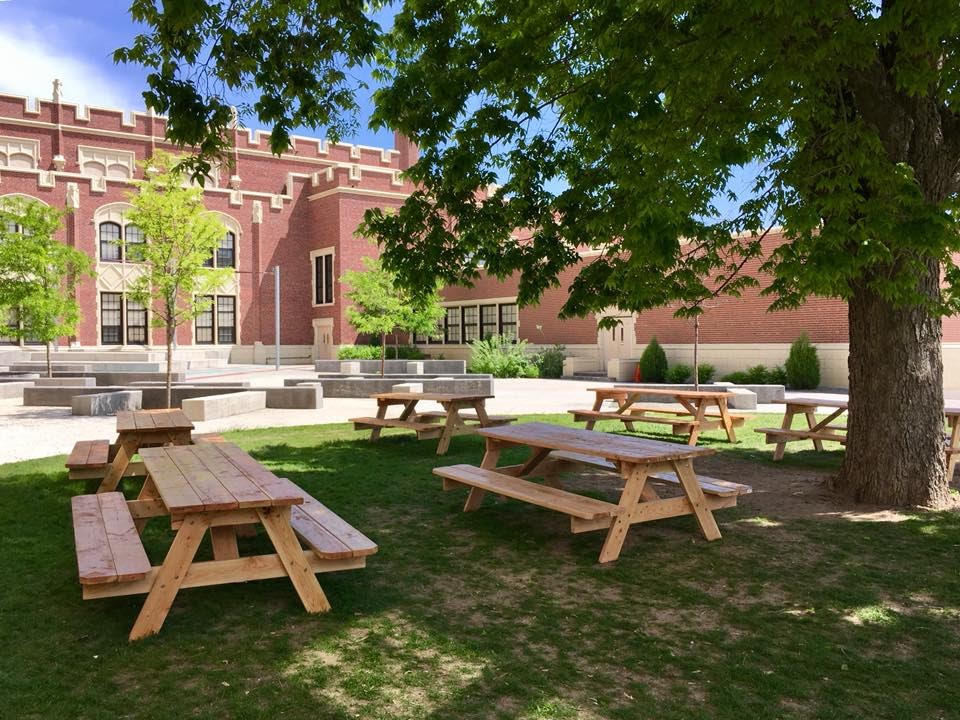 In 2015 we added new doors for our main entrance, enhancing the look of the building and bringing more natural light into our foyer.
History of the Smiley Building
Smiley Junior High School opened in 1928 with 350 students and was named after Emeritus DPS Superintendent William H. Smiley, PhD. A Harvard University graduate, teacher of Latin and the classics, he was a principal (1892 to 1912) and superintendent of Denver Public Schools (1912 to 1924). A portrait bust of William Smiley remains in the front hall of Smiley.
The building is a Tudor style designed by the architect George H. Williamson. Williamson also designed East High School, the Daniel & Fisher Tower on the 16th Street Mall, and Teller Elementary School. Smiley shares some of the same Tudor architectural features with the University of Colorado Mackey Auditorium, such as the bricks set in manila and light terracotta and the octagonal towers.